Shipping
DELIVERY
Total Delivery Time = Processing Time + Shipping Time
Normally package will be delivered to your home directly. If you have any issue about shipping and delivery, please submit a ticket to support center. We will reply you in 24 hours.
PROCESSING TIME
After the receiving of your order, we conduct Quality Control checks and testing in order to ensure the product's quality prior to shipment. The processing time varies depending on the specific product with the average processing time approximately 3 business days; however, it can also be affected by the item's stock status. If your order includes popular items experiencing stock availability issues, the order can take between 4-6 business days to process.
Once we receive your payment, we will start to process your order. All items will go through strict Quality Control checks and are well packed before before they are shipped out. So normally the processing time will take around 4 business days. If there is any problems about your order in processing, we will email you.
SHIPPING TIME
It needs time to ship and the duration on its way to you is out of control. What under our control is that we will ensure ship the item within certain biz days as described in item listing.
Standard Shipping: 7-25 business days.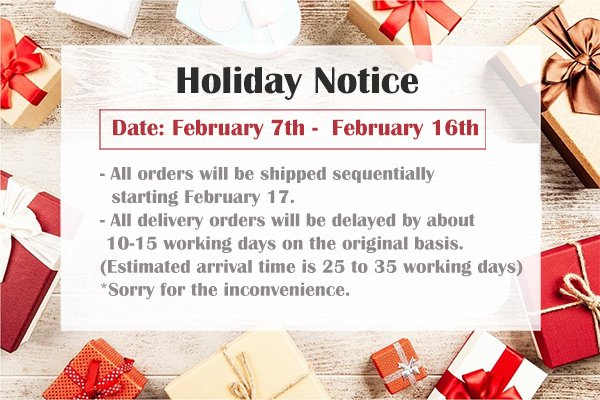 Note: The public holidays, destination countries and couriers will be affected the shipping time too.This is outside our control.
HOW TO FOLLOW MY PACKAGE?
We will email you the shipping information after your order is shipped out. You also can view the shipping status in your account.
IMPORTANT NOTE
There may be delay between scanning events and the website's updates.Once we have shipped the item, the tracking status will take a few days to be updated online by the shipping company. Therefore, please hold on for a few more days and try again later.
ABOUT TAX
All shipments from China are Delivery Duty Unpaid. Therefore, any and all customs or import duties are charged once the parcel reaches its destination country. If any,these charges must be paid by the customers.Customers take full liability for all return shipment costs, customs charges and handling fees should they refuse to accept a parcel due to import duties or taxes. Please note that according to customs regulations, Cutebuy cannot declare purchased items as a gift or list an amount that lower than the actual product price.
If you need help or have further inquiry, please submit a ticket to support center. We will reply you in 24 hours.