Details
Descriptions:
Have you been looking for the popsicles with no preservatives and no colorants? Only a handful of seasonal fruit and popsicle molds are required, you can prepare your own or the children's tasty and healthy popsicles.
Main Features:
- Made of high-quality food-grade silicone, non-toxic, no peculiar smell, safe to use.
- It makes 10 popsicles at a time, saves your time and effort.
- Reusable design and easy to clean.
- Create frozen popsicles using any combination of juices, purees, yogurt, applesauce, fruit, ice cream, whipped cream, milk or pudding. Using your creativity, make the healthy and delicious frozen snacks for your kids and friends!
Package weight: 0.576 kg 
Package Size(L x W x H): 24.00 x 16.00 x 12.00 cm / 9.45 x 6.3 x 4.72 inchesPackage Contents: 1 x Popsicle Mold, 50 x Ice Stick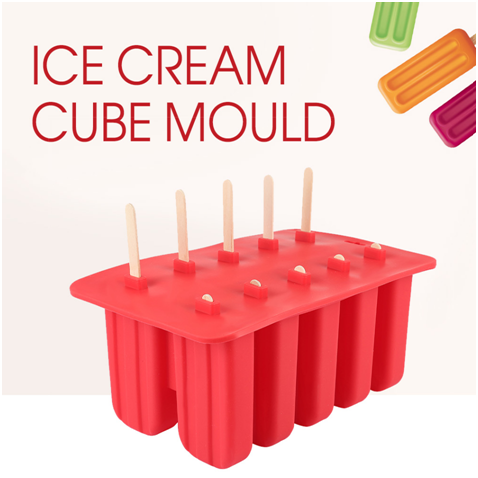 click to read : https://www.cutebuy.com/household-diy-silicone-ice-cream-cube-mould-with-10-casewhite.html
6pcs DIY Umbrella Shape Ice Cream Making Mold
Details
Main Features:
• Easy to make ice cream: pour juice, freeze, pull out 
• Easy to pull out: pull to release, no need to run under the warm water
• Not only for ice cream it can also make lollipop, candy, chocolate
• Suitable capacity for kids: the mini capacity of each mold is suitable for kids' appetites
• Safe plastic: food-grade, non-toxic, flexible, durable, odorless, heat or cold resistant
• Little umbrella style: cute and funny, attractive to childrenPackage weight: 0.156 kg 
Package Size(L x W x H): 20.00 x 12.00 x 23.00 cm / 7.87 x 4.72 x 9.06 inchesPackage Contents: 1 x Ice Cream Mold Set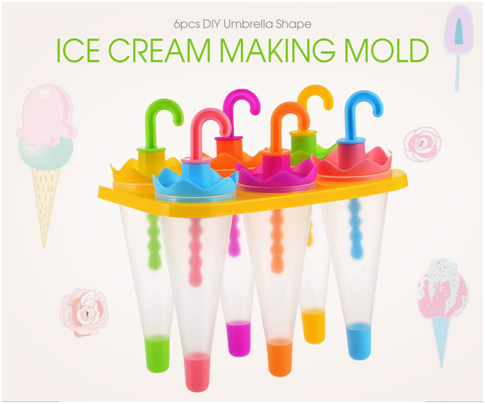 click to read : https://www.cutebuy.com/6pcs-diy-umbrella-shape-ice-cream-making-molduniversal-color-1.html
DIY Silicone Ice Cream Mold Dessert Tool
Details
Main Features:
● Made of high-quality food-grade silicone, non-toxic, no peculiar smell, safe to use.
● Perfect for making ice cream, ice pop, jelly, mousse, chocolate and so on.
● Creative pattern design, it will add much fun to your life.
● Easy to clean and reuse.
● Included 21 ice cream sticksMaterial: SiliconePackage weight: 0.169 kg 
Product Size(L x W x H): 19.30 x 14.50 x 2.40 cm / 7.6 x 5.71 x 0.94 inches 
Package Size(L x W x H): 20.00 x 15.00 x 3.70 cm / 7.87 x 5.91 x 1.46 inchesPackage Contents: 1 x Ice Cream Mold, 21 x Ice Cream Stick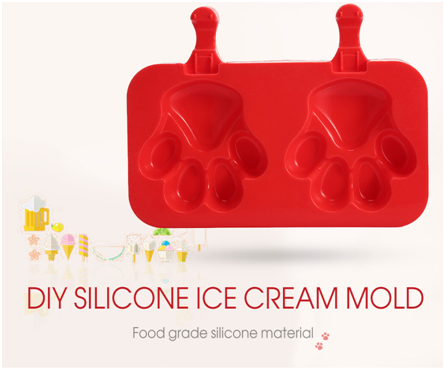 click to read : https://www.cutebuy.com/diy-silicone-ice-cream-mold-dessert-toolredtype-c.html
More Categories :
view moare : http://www.cutebuy.com